Budget How To
Your Project Budget
The project budget is a critical piece of your construction loan. At Builders Capital, we want to ensure your budget is accurate and customized to your needs. The Project Budget Template streamlines the draw disbursement process after closing. The more detail provided, the easier the draw process will be and the quicker you will get reimbursed for work completed. We recommend spending time on fine-tuning your budget!
We have two templates to use when constructing your budget:
Development Budget: Used for horizontal development. If you are moving dirt and/or building infrastructure of some kind, you will want to start with this template.
Project Budget: Used for all vertical construction projects. This template is based upon each foundation. Meaning, if you are constructing five houses with one loan, you will provide five project budgets, one for each home. If you are building a condo project with 10 units, you will use one project budget.
You can always call your dedicated Transaction Coordinator with questions on completing your budget.
When filling out the Project Budget Template, begin by selecting 'Enable Content' at the top of the sheet.
Use the "Sub-category" section to customize the template. You do this by selecting the '+' next to the Category.
Please only fill out "Sub-category" (column E)
"Total Budget Amount" (column F) 
"Amount at Closing" (column G, if applicable)
We understand that our borrowers' projects are not "one size fits all," so if your budget categories do not match ours exactly, please place that item in a category that closely describes the work being done and add additional detail in the Sub-category column. The sub-category column is free form and you can add as many sub-categories as you need. Be descriptive and make it work for you. Adding additional detail in the Sub-category is helpful for our inspection company, as it gives them greater clarity on what they are inspecting when they are visiting your construction site. Some of our borrowers/builders will add their own tracking system to align with their internal accounting practices. Please avoid including Sub-category details that are only cost codes, however cost costs + additional description details can be very helpful to you as your project progresses.
If you need to delete a line item that you have added, select 'Yes' from the drop down list in the 'Delete' Column, and then select 'Delete Indicated' in the top left corner of the excel spreadsheet.
If you have any issues, please do not hesitate to reach out to servicing@builders-capital.com.
How do I Submit a Draw?
1. Select Request Draw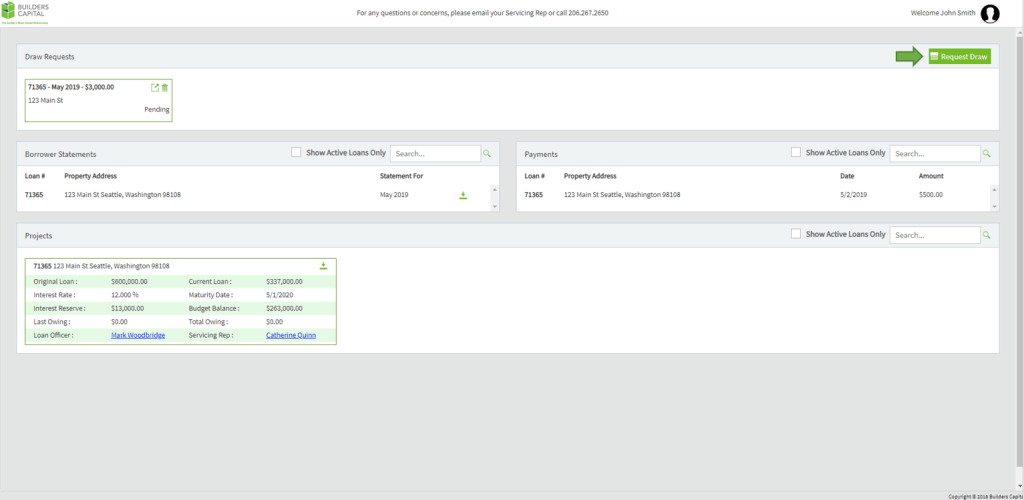 2. Select Loan 
3. Select Property

4. Select Next

For Non Direct Pay Loans 
5. Select Requested Amount field and enter the amount you wish to request
6. Select Submit to send your request to Builders Capital.  Please note you will not be able to make any edits to your draw request after submission.
7. Not ready to send to Builders Capital? Select Save and your request will be saved and you can resume at any time

For Direct Pay Loans 
5. Select the arrow on the left side on the left side of the budget line item 
6. Select + to enter in the vendor information
Vendor Name
Reference/Invoice Number
Street Address
City 
State 
Zip 
Select the checkbox if you have pre-paid the vendor
Enter the amount that needs to be paid to the vendor
7. Select attachments button to upload invoices
8. Select Submit to send your request to Builders Capital.  Please note you will not be able to make any edits to your draw request after submission.
9. Not ready to send to Builders Capital? Select Save and your request will be saved and you can resume at any time